Invisalign Rockville
Is Invisalign better than braces? Like many women and men, you may be looking for a way to straighten your teeth and transform your smile, but want to avoid the discomfort and self-consciousness that come with metal dental braces.
If this sounds like you, then Invisalign Rockville can offer an excellent alternative! Invisalign is a system of smooth, clear aligners that gently and gradually shift teeth through a series of custom-made trays.
Continue reading to discover why Invisalign Rockville is better than braces.
5 Reasons Why Invisalign is Better Than Braces
1. Invisalign Aligners Are Virtually Invisible
Like their name suggests, Invisalign aligners are virtually invisible and offer women and men a discrete way to straighten their teeth and improve their smile. Accordingly, when using Invisalign, patients can feel confident and avoid drawing attention to the fact that they are wearing any type of dental device.
2. They Are More Comfortable Than Braces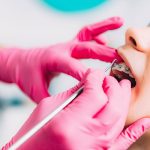 Comfort is one of the key reasons why Invisalign Rockville is better than braces. With traditional metal braces, patients have to deal with cuts from brackets or poking from wires. Invisalign is designed with smooth, clear plastic to save patients the irritation and pain of bothersome brackets and tightening wires.
3. They Often Straighten Teeth Faster
While prescribed treatment time can vary from patient to patient, most individuals have braces in place 24 hours a day and for 2 years or more.
On the other hand, Invisalign aligners are typically worn for 22-24 hours a day and for a period of 6-18 months.
4. Invisalign is Removable
Another reason that Invisalign Maryland is better than braces is because it's removable. This means that patients can take their aligners out for cleaning, flossing and brushing as well as during meals.
As a result, Invisalign poses minimal interference with your daily life.
5. Easy Cleaning and Maintenance
Often times, it can be difficult to properly clean braces. With Invisalign Maryland, you get a built-in cleaning system. Alternatively, you can remove the trays in order to brush them or rinse with lukewarm water.
Learn More About Invisalign
If you are considering Invisalign Rockville, please contact our office today to schedule a comprehensive consultation with Invisalign specialist Dr. Rochelle E. Hackley DDS.