Sedation Dentistry Rockville
Comfortable Dental Treatment at Rochelle E. Hackley DDS Dental Spa
When you go to the dentist, do you tend to feel nervous, even if you are just going for an examination or cleaning? At Rochelle E. Hackley DDS Dental Spa, we understand that many patients feel uneasy about dental work which is why we offer a variety of sedation options to comfort you during your time in our office.
Depending on your preferences and level of anxiety, we can find a solution that works for you.
Making Dental Treatments Easier On You
Going to the dentist for any type of treatment or procedure shouldn't make you feel fearful, but we understand if it does. We also understand that the idea of IV sedation or general anesthesia may be overwhelming. Instead, consider talking to our Rockville dentist about the less invasive options.
The forms of treatments we offer may include:
Nitrous oxide
Pulse oximetry
Conscious sedation
Oral conscious sedation
Conscious Sedation vs. Nitrous Oxide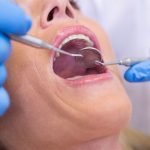 There are two main types that we offer, which are conscious sedation and nitrous oxide. The conscious option leaves you awake but protects you from feeling the procedure we are performing. Some patients report that they feel relaxed and often do not remember any or all of the treatment.
Oral sedation is given in a form similar to an aspirin and doesn't affect your breathing. Nitrous oxide, also known as laughing gas, is given through a mask and can give you an incredibly relaxed feeling.
Learn More About Dentistry in Rockville
Are you or a family member interested in dental work but are afraid of being put under? Give us a call at (301) 917-3964 to schedule a consultation with Dr. Hackley today!