PDO Thread Lift in Rockville
Safely & Effectively Lift Sagging Skin without Surgery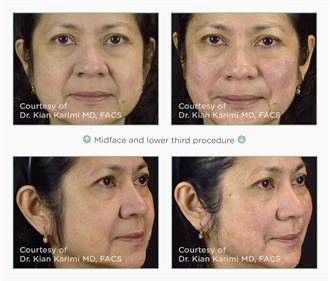 The PDO absorbable Thread Lift procedure is designed to provide your skin with a natural-looking lift without going through a surgical facelift.
At Rochelle Hackley, DDS, LLC, we are proud to offer this treatment that instantly lifts loose or sagging skin on your neck, face, or body with a very limited amount of downtime.
The lift procedure is done with small threads that are placed under the skin with a hypodermic needle. The threads are eventually absorbed fully into the skin after about six months but patients usually see results well before then.
Schedule your PDO Thread Lift by Contacting our friendly team today.
The PDO Thread Lift is performed by:
Having topical and local anesthetic applied to the areas that will be treated
Each area to be treated will be clearly marked
The threads are inserted under the skin without an incision or cut
Depending on the desired results, more threads might be added
How the PDO Thread Lift Works
As the thread is placed under the skin, there is a small and natural inflammation reaction that occurs. This selective inflammation response allows your body to naturally produce collagen for a result that is longer lasting.
Your body is naturally creating your face lift without the need for surgical treatments, allowing you to get the results you want without having to recover from an operation.
Skilled Aesthetic Treatments from a Trusted Professional
Dr. Hackley and our entire staff are dedicated to making sure you have a superior experience when you visit our office.
Along with our focus on your experience, we want you to be informed and educated regarding any Rockville spa services. That is why we take the time to talk with you and develop an open line of communication.