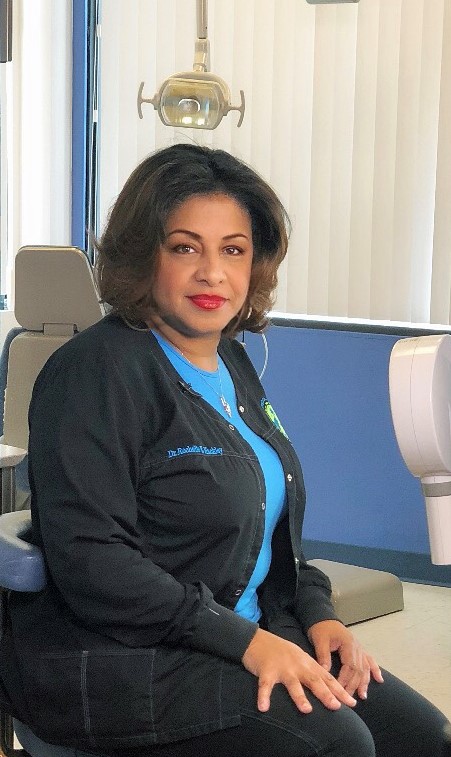 Rochelle E. Hackley-Harris, DDS
Dr. Rochelle E. Hackley was born and raised in the inner city of Dayton, Ohio. Dentistry has been Rochelle working on a computerher passion and vision from the tender age of 14. Dr. Hackley's career started in Dayton, Ohio at the age of 16 under the practice of Dr. Truman L. Martin as his dental assistant. It was in that atmosphere that she gained her foundational knowledge of the field of dentistry. Dr. Hackley attended Howard University where she pursued her undergraduate degree in the field of dental hygiene (1987). She obtained her Doctorate of Dental Surgery degree at the University of Maryland at Baltimore (1992) and has received her Master Certification in Dental Implantology (2012) where she was class valedictorian.
Dr. Hackley started her own practice in August, 1998. She has accomplished a great deal from the time of her humble beginnings evolving from a small 3 operatory office. Her vision was to expand her practice to a much larger location in White Flint Mall (Rockville, MD) where she has been since 2000. Her practice consists of 7 operatories and a staff of 14 including 3 certified registered hygienists, 1 associate doctor, 1 licensed aesthetician, 1 licensed massage therapist and a spa area. She further expanded her dental practice in August 2012 to include her complete Dental Spa as her newly added feature "Serenity Smiles by Dr. Rochelle E. Hackley". The office carries the theme "A Smile is the Same in All Languages", along with her slogan "We cater to Cowards". The exclusive theme for the Dental Spa is "Giving You A New Reason to Say Ahhhhh". The diversity of her patients is a true testament to her love for people and her profession.
She is certified in numerous categories in her field including Cosmetic Dentistry; Certified in the use of Facial Cosmetic Injection Products by International Academy of Facial Aesthetics which includes Botox® and Derma fill injections, Invisalign (premier provider) since 2002 as well as sedation dentistry certified through DOCS Education since 2006. Dr. Hackley stays on the cutting edge of her profession by becoming skilled in the aspects of dental sleep medicine also known as sleep apnea.
Through Dr. Hackley's firm spiritual foundation she has become a true philanthropist in her own right. She has taken several missions trips around the globe and here at home to help those in need of dental work. She continually uses her skill-sets to reinvest giving back into communities through her participation with "Word Alive Missions" under the leadership of Rev. Jackie McCullough (Jamaica) providing dentistry at no charge to those in need and to the Dominican Republic under Dr. Arun Garg. In some instances, Dr. Hackley and others would see hundreds of patients in a single day providing any type of dental care free-of-charge. Dr. Hackley and her staff would solely provide these same services to the adolescent orphanages "God's Chosen Fast and Joshua House" with Rev. James McCann (Ukraine Russia). She also uses her gifts closer to home by providing consistent support to "Ella's Kids", a shelter for homeless families through her church Faith United Ministries (FUM) under the tutelage of her Pastor, James Sturdivant. At FUM, she is also a certified facilitator of Dynamic Marriage providing the spiritual perspective and training on marriage. She has funded a named scholarship to benefit college-bound girls in Montgomery County. She is a true advocate providing donations to the American Heart Association, American Diabetes Foundation, Walk for a Cure (Breast Cancer), Feed the Children and St Jude's cancer research just to name a few. She has also been featured in the following publications: Prudence Magazine, Working Women Magazine, and Sidekick Dental Magazine.
Her current affiliations include American Dental Association, National Dental Association, Maryland Dental Association, American Dental Implant Association, Delta Sigma Theta Sorority, Incorporated, and the Links, Incorporated. She was also recognized as one of the "25 Most Influential Black Women" in 2008. As a leader in her field, Dr. Hackley is an awesome example and mentor to young women. Her belief is that anything is possible through a strong belief in God, true dedication to your dream, and the determination to see it through. Dr. Hackley is married to Anthony L. and has two children; has two children; Brianna G. (23) and Anthony E. (14).