Corrected Smiles with Rochelle E. Hackley DDS Dental Spa
When most people think of orthodontic treatment, they associate it with the obvious, painful metal of traditional braces. Thankfully, Rochelle E. Hackley DDS Dental Spa, your Invisalign specialist in Rockville, are here to change that.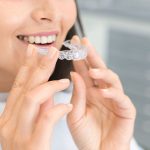 While many dentists still choose to use braces with metal wires, newer technology now allows us to offer a more advanced form of teeth straightening.
At Rochelle E. Hackley DDS Dental Spa, our Rockville dentist uses Invisalign aligners, which are clear and nearly invisible. With Invisalign aligners, you can achieve a straighter smile without the look and inconvenience of metal braces.
Interested in Invisalign treatment here in Rockville? We can help! Contact our friendly team today.
Advantages of Invisalign Rockville
If you have been avoiding improving your smile because of the invasiveness and long-term commitment to metal braces, now is the time to reconsider. The clear aligners are made up of plastic and do not have to be bonded to your teeth. This makes it easier to remove them for maintaining oral health during treatment. If you grind your teeth while you sleep, Invisalign may be able to help protect them from bruxism, as well.
A few of the other benefits of Invisalign include: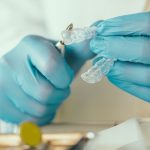 •Shorter treatment period.
•Improved oral health, thanks to being able to brush easier.
•Completely customizable to fit perfectly.
•Unlimited diet, thanks to being able to take the aligners out.
•Increased comfort, since there are no wires to irritate your mouth.
•Nearly invisible, discreet appearance.
Invisalign Rockville is a Terrific Option for Many Teens
Invisalign Teen™ allows for your child to receive the same convenient and comfortable orthodontic treatment that Invisalign is known for. This option has a compliance indicator that can help ensure your teen is properly utilizing their aligners. Fortunately, Invisalign Teen™ is about the same cost as traditional braces so you don't have to worry about the cost.
Straighter Teeth in Less Time With Invisalign Specialist in Rockville
When you are utilizing the Invisalign system, you could be using it for less time than most people. Dr. Rochelle E. Hackley DDS can combine Invisalign's advanced technology with Propel accelerated orthodontics. This means you can receive the same treatment in up to half the time.
Your Invisalign FAQs Answered
Curious whether this metal-free teeth alignment option is for you? Below are the answers to your Invisalign FAQs:
What Is Invisalign Treatment?
Simply put, Invisalign treatment involves wearing a set of clear, removable aligners that gradually straighten your teeth. Unlike traditional braces, there are no metal, wires, or brackets required.
Who Is Invisalign Treatment For?
Invisalign is suitable for both adults and teens. Essentially, Invisalign is great for anyone seeking a virtually invisible solution to improve their smile.
What Is the Treatment Process?
Invisalign begins with a consultation with an Invisalign-trained doctor. The doctor maps out your smile and curates a personalized treatment plan. Then, you receive a unique series of liners. You wear these for 20 to 22 hours each day. (You change sets approximately every 1 to 2 weeks.)
How Much Does It Cost? 
This is one of the more common Invisalign FAQs that we get. In most cases, the cost of Invisalign is similar to that of braces. Your doctor determines the cost of your treatment based on the complexity of your case.
Why Should I Feel Confident About Invisalign Treatment?
Invisalign has transformed the smiles of over 14 million people (including more than 3 million teens). Additionally, Invisalign aligners and retainer materials are composed of medical-grade, high molecular weight, thermoplastic polymers.
What If I've Had Braces? Or Other Dental Work?
This is another Invisalign FAQ that we're often asked. If you're currently wearing braces, you might be able to switch to Invisalign! You just have to consult with your doctor beforehand. The same goes for patients who have veneers or crowns.
How Will Invisalign Affect My Life?
Invisalign aligners are virtually invisible – no one will be able to tell you're wearing them! Additionally, you can remove the liners whenever you need to, and there aren't any food restrictions (hello, popcorn).
Contact Invisalign Specialist in Rockville
Would you like to learn more about Invisalign? With more than 35 years of experience practicing dentistry, our dentist is prepared to address all your concerns. We're committed to using our extensive training and state-of-the-art technology to serve all of your needs.