We are celebrating 25 great years of serving the best patients around! We would like to say a huge thank you to our patients, friends, and families that have made the past 25 years the best. We hope to continue to serve the community for many years to come.
Meet Dr. Hackley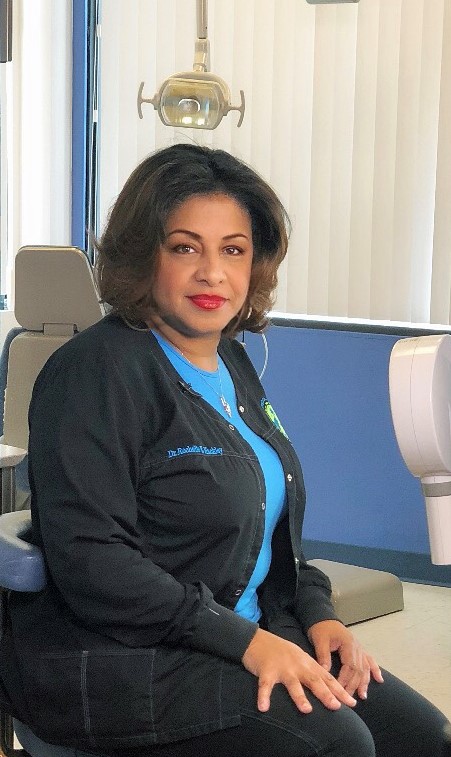 Born and raised in Dayton, Ohio, Rochelle Hackley has been interested in dentistry since the young age of 14. At 16, she entered the field as a dental assistant for Dr. Truman L. Martin. This is where she fed her passion and gained foundational knowledge of dentistry.
Afterwards, Dr. Hackley attended Howard University and then obtained her Doctorate of Dental Surgery from University of Maryland at Baltimore. She went on to receive her Master Certification in Dental Implantology, where she was also class valedictorian.
Moving Up and Onward
Since starting her own practice in 1998, Dr. Hackley has accomplished many things and grown her practice substantially. From a small 3 operatory office to a practice that consists of 7 operatories and a staff of 14.
Additionally, Dr. Hackley expanded again in 2012 to include her Dental Spa. She is certified in numerous categories included Cosmetic Dentistry as well as Certified in the use of Facial Cosmetic Injection Products by the International Academy of Facial Aesthetics. This includes Botox and Dermal filler injections. She is also a Certified in the use of Invisalign and sedation dentistry. Dr. Hackley enjoys continuing her education and training to stay on the cutting edge of her profession.
Serving Her Community for 25 Years
Dr. Hackley possesses a firm spiritual foundation and philanthropic views. Not only does she give back to our community, but she also serves communities around the globe through mission trips. She has spent time in many countries providing free dental care to hundreds of patients each day. She has also worked with orphanages in Ukraine/Russia to provide dental care.
Dr. Hackley's desire to give back to her community has led her to provide consistent support to Ella's Kids, a shelter for homeless families through her church Faith United Ministries. She is also a certified facilitator of Dynamic Marriage, and she has funded a scholarship to benefit college-bound girls in Montgomery County.
Furthermore, Dr. Hackley is an avid supporter of the American Heart Association, American Diabetes Foundation, Walk for a Cure, Feed the Children and St. Jude's cancer research.
Current Affiliations
Dr. Hackley is currently affiliated with the American Dental Association, National Dental Association, Maryland Dental Association, American Dental Implant Association, Delta Sigma Theta Sorority, Inc., and the Link, Inc. She has been featured in several magazines and was also recognized as one of the 25 Most Influential Black Women in 2008.
Dr. Hackley loves her community and is passionate about helping others. She says, "I believe that anything is possible through a strong belief in God, true dedication to your dream, and the determination to see it through".
Celebrating 25 Years of Serving
August 2022 marked 25 years of service from Dr. Hackley. If you are looking for a provider that genuinely cares for you, and the community, come see Dr. Rochelle Hackley.