Cosmetic Dentistry Rockville
For women and men who suffer from tooth discoloration, unwanted gaps, cracks, chips, surface imperfections, cavities, and decay, there are a number of cosmetic dentistry services to consider for your smile makeover.
While maintaining good oral health and tooth function is essential, it's also important to preserve and enhance the appearance of your smile
If you are interested in a smile makeover with cosmetic dentistry Rockville, continue reading to learn all about these 4 popular treatment options.
4 Cosmetic Dentistry Treatment Options to Consider
1. Tooth Whitening and Bleaching
When it comes to a smile makeover with cosmetic dentistry Rockville, teeth whitening and bleaching are among the most-requested treatments.
Many women and men who want a whiter and brighter smile choose to undergo in-office whitening treatments that involve covering the teeth with a gel and applying laser-based energy.
At-home whitening strips offer another option – albeit one that is often less effective and more time consuming.
For patients with severely stained or discolored teeth, bleaching may be an appropriate solution. It uses hydrogen peroxide to make teeth appear whiter, but can sometimes produce an overly-whitened look.
2. Bonding
Bonding is designed to fill-in gaps between teeth or correct cracks and chips that are the result of an accident or injury.
3. Veneers
Veneers are frequently used for a smile makeover with cosmetic dentistry. Constructed of a strong porcelain material, they are applied as a thin layer to hide imperfections, such as cracks and chips, in the tooth or teeth. Veneers can provide extremely natural-looking restoration and are matched to the color of the individual's teeth.
4. Fillings and Crowns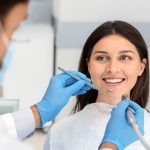 While fillings and crowns can help prevent further tooth decay and improve oral health, they also play a vital role in cosmetic dentistry.
Fillings are typically used to repair surface damage from small cavities.
Crowns, on the other hand, encircle the entire tooth or cover a dental implant and are often used for larger cavities or more extensive damage.
Ready for a Smile Makeover with Cosmetic Dentistry?
If you are considering a smile makeover with cosmetic dentistry Rockville, please contact our office today to schedule a consultation with leading cosmetic dentist Dr. Rochelle E. Hackley DDS.