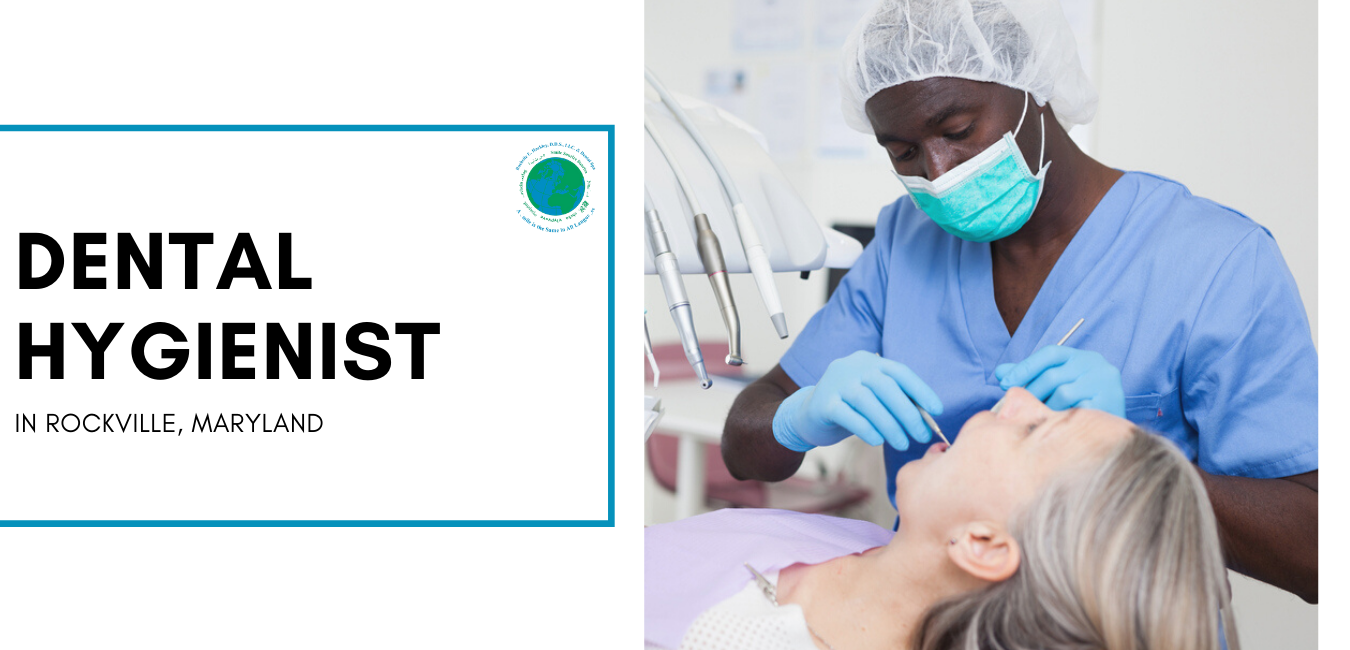 Hygienist in Rockville
When you go to the dentist, you likely first see a hygienist to prep you for the doctor. A good dental hygienist helps you to relax and feel comfortable in the chair, putting your mind at ease.
You'll often spend more time with the hygienist than with your dentist during your check-ups and cleanings unless you need major dental work done.
What Is a Dental Hygienist?
A hygienist, like other professionals in a dental office, helps to educate patients on how to maintain and / or improve oral health, such as when and how to brush and floss. They also review your oral and overall health history.
According to the CDC, dental hygiene is "the practice of keeping the mouth, teeth, and gums clean and healthy to prevent disease."
So, the main function of a dental hygienist is to perform preventative care to help you avoid dental caries or other oral health concerns. They may also discuss the role your diet plays in your oral health and what to avoid or consume for healthier teeth and gums.
What Can a Hygienist Not Do?
They are not allowed to diagnose any disorders or disease or perform most treatments.
In some cases where allowed by law, hygienists may be able to administer treatments under direct supervision of a dentist.
How Do You Become a Hygienist? What Are Qualifications to Become a Hygienist?
To become a hygienist, you need to check your state requirements for licensing. You must complete a degree program at a school that is accredited by the Commission on Dental Accreditation.
Then, you need to complete and pass a licensing exam in order to practice as a registered dental hygienist (RDH), and you can use RDH after your name so that people recognize you as a professional.
What Is the Difference Between a Dental Hygienist and a Dental Assistant?
Both of these oral health care professionals work under a licensed dentist, but they do have different job duties. Many hygienists may perform the same duties as an assistant, including taking X-rays and impressions of teeth, assisting the dentist with treatments, and teaching patients best oral hygiene practices.
Additionally, a hygienist may also be able to apply fluoride, apply local anesthetics, remove calculus, plaque, and even stains from tooth surfaces, polish teeth, apply sealants, and remove dressings and sutures after dental procedures, depending on state regulations
But, a dental assistant is not able to perform these job duties of a dental hygienist.
What Is the Difference Between a Dental Hygienist and a Dentist?
While a hygienist is able to assist a dentist in many aspects of oral healthcare, there is still a large gap between their job and a dentist's. A dentist has to graduate dental school after receiving a bachelor's degree.
In dental school, they learn how to diagnose, prevent, and treat the teeth, gums, mouth, and other oral structures, as well as how to encourage patients to take good care of their oral health. No one but a dentist is able to diagnose and treat dental concerns.
Where Should I Go for the Best Dental Hygienists in Rockville, MD?
For the top professionals in oral health, choose the hygienists, dentists, and dental assistants here at Hackley Dental Spa.
We provide outstanding care to help optimize the health of your teeth and gums, as well as offer a number of cosmetic treatments to really make your smile beautiful!
And, not just your smile! We have anti-aging Botox injections and other treatments to truly help you look great from head to toe.
Call us today at 301-917-3964 to book an appointment for sensationally great general dentistry or cosmetic treatments that make you grin every time you look in the mirror!